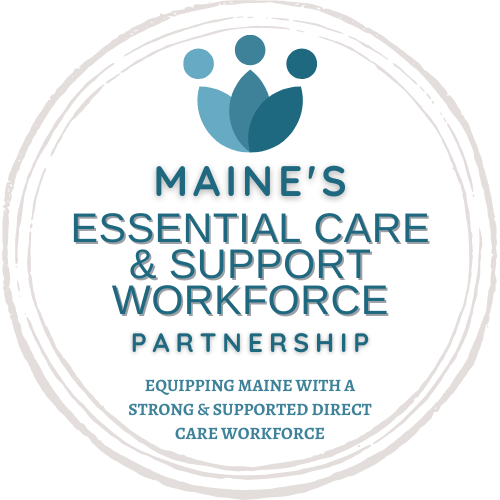 Welcome to the Partnership
We are a broad partnership led by the Maine Council on Aging, the Maine Center for Economic Policy and PHI, working to increase access to quality direct care and support in Maine by changing the way we value workers and the work they do. We are working to create a resilient and empowered direct care and support workforce equipped to provide care and support services to older adults, those with behavioral health needs, and people with physical and/or intellectual disabilities wherever services are needed. Our work is partially funded by a generous grant from the Maine Health Access Foundation.
Every person who needs care and support services in Maine should be able to receive consistent and predictable care and support from an empowered and valued worker who is trained to deliver quality services, regardless of the setting in which services are delivered.  A well-trained and appropriately compensated direct care and support workforce is essential to the health and well-being of Maine's people and economy.
We engage in advocacy, research and coalition building to increase the number and kinds of people who are advocating for sufficient investments in Maine's "care economy" – both the workforce and the care infrastructure, collaborating on innovative solutions and initiatives to grow and more efficiently deploy a quality workforce, and promoting care as a valuable and honorable profession.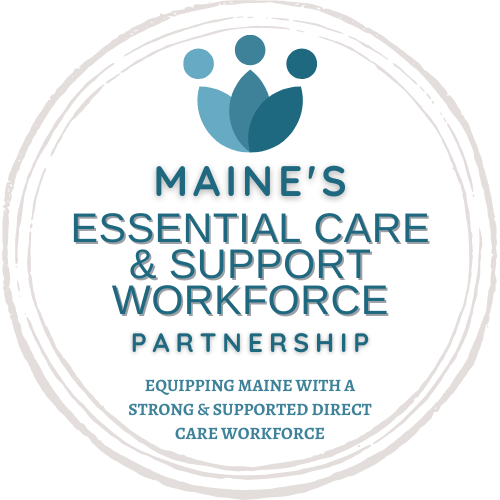 Maine's Essential Care & Support Workforce Partnership presents a webinar on
Best Practices for Attracting & Keeping Direct Care Workers
Tuesday December 12 | 1:30-3pm on Zoom
Using PHI's 5 Pillars of Direct Care Job Quality, this webinar will feature a national expert on direct care work alongside providers in Maine who are already implementing some these strategies to grow and retain a quality workforce.
Sign Up to Join the Partnership Today!
Maine's Essential Care and Support Workforce Partnership represents a broad and robust coalition of advocates working to increase access to quality direct care workers for older people, people with intellectual and/or physical disabilities, and those with behavioral health challenges.
The Partnership Launches Its First Report!
Authored by the Maine Center for Economic Policy, the report, titled, The High Cost of Undervaluing Direct Care Work, highlights the current challenges Mainers face when seeking care in addition to the significant economic repercussions secondary to a historical lack of investment in our care infrastructure. Click here to read!
Stay Up-To-Date on News & Reports on Maine's Direct Care Workforce